The versatility of our purpose designed custom profile manufacturing facility allows us the flexibility of producing cold rolled pre-pierced and post pierced sections in a wide range of materials.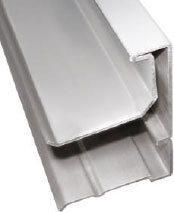 With press capacities up to 200 tonnes available to customers, a vast range of components can be produced, our in-house tooling and design facility provides customers with the ultimate flexibility. Customer confidentiality is maintained throughout the process.
The flexibility of our manufacturing capabilities is evident from the wide range of niche markets in which we operate, for example, the automotive industry, office furniture, storage systems, construction and the building sector, where we have established a strong reputation and competitive edge.